Flairdeck is a top job consultancy firm in India that has been helping job seekers, and employers connect and find the right match for their needs. With a deep understanding of the Indian job market and a commitment to providing personalized attention and high-quality services, Flairdeck has established itself as one of the top 10 job consultancy firms in India.
At Flairdeck, we understand that finding the right job or candidate can be a challenging and time-consuming process. That's why we offer a range of services to make the process easier and more efficient for our clients. Our team of experienced professionals works closely with job seekers and employers to understand their unique needs and preferences, and to provide tailored solutions that meet their specific requirements.
For job seekers, we offer a range of services, including resume writing, job search assistance, and interview preparation. We understand that every job seeker is unique, and we take the time to get to know our clients and their goals, so we can provide personalized support and guidance throughout the job search process.
For employers, we offer a comprehensive suite of talent acquisition and recruitment services. Our team of experts can help identify top talent, screen candidates, and manage the hiring process from start to finish. We work closely with employers to understand their specific hiring needs and develop a customized solution that meets their requirements.
One of the key strengths of Flairdeck is our deep knowledge of the Indian job market. We have years of experience working with both job seekers and employers, and we have a thorough understanding of industry trends and hiring practices. This allows us to provide valuable insights and guidance to our clients, helping them navigate the competitive job market in India.
Another key strength of Flairdeck is our commitment to providing personalized attention and support to our clients. We understand that every client is unique, and we take the time to get to know our clients and their needs. Whether you are a job seeker or an employer, you can count on Flairdeck to provide dedicated support and guidance throughout the hiring process.
Overall, Flairdeck is one of the top 10 job consultancy firms in India, thanks to our deep knowledge of the job market, personalized attention, and range of high-quality services. If you are looking for a job or trying to fill an open position, we invite you to partner with us and experience the Flairdeck difference.
Key Benefits of Top Job Consultancy in India
When it comes to finding top talent for your organization, partnering with Flairdeck, a leading job consultancy firm in India, offers a range of key benefits that can streamline your hiring process and ensure you attract the best candidates. With our extensive experience, industry knowledge, and commitment to excellence, Flairdeck is the ideal partner for employers seeking recruitment and talent acquisition solutions.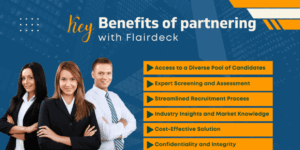 Access to a Diverse Pool of Candidates: Flairdeck has built a vast network and database of highly qualified candidates across various industries and job functions. By partnering with us, you gain access to this diverse pool of talent, expanding your options and increasing the likelihood of finding candidates who possess the right skills, experience, and cultural fit for your organization. Our proactive approach ensures we stay connected with potential candidates, even those who may not be actively searching for a job, giving you an edge in identifying and attracting top talent.
Expert Screening and Assessment: Our team at Flairdeck understands the importance of finding candidates who not only meet the required qualifications but also align with your company's values and objectives. We conduct thorough screenings, interviews, and assessments to evaluate candidates based on their technical skills, cultural fit, and potential for long-term success. Our expertise in candidate evaluation minimizes the risk of a poor hire and saves you valuable time and resources.
Streamlined Recruitment Process: Flairdeck streamlines the recruitment process for employers, ensuring a smooth and efficient experience. We take care of the time-consuming tasks such as job postings, resume screening, and initial interviews, allowing you to focus on core business activities. Our team handles the administrative aspects of the hiring process, providing you with a curated list of pre-qualified candidates who are best suited for the position. This streamlining not only saves time but also improves the overall quality of the candidates you interview.
Industry Insights and Market Knowledge: As a top job consultancy firm, Flairdeck possesses in-depth knowledge of the Indian job market and industry trends. We stay up-to-date with evolving hiring practices, compensation benchmarks, and talent demands across various sectors. This expertise allows us to provide valuable insights and guidance, helping you make informed decisions and remain competitive in attracting top talent. With our market knowledge, you gain a strategic advantage in understanding the talent landscape and positioning your organization effectively.
Cost-Effective Solution: Outsourcing your recruitment needs to Flairdeck can be a cost-effective solution for your organization. Traditional recruitment methods can be resource-intensive, requiring significant investments in job postings, applicant tracking systems, and recruitment teams. By partnering with us, you can reduce these costs while benefiting from our established infrastructure, extensive candidate network, and expertise in talent acquisition. We offer flexible engagement models that align with your specific requirements and budget.
Confidentiality and Integrity: Flairdeck places utmost importance on maintaining confidentiality and integrity throughout the recruitment process. We understand the sensitive nature of recruitment, and we handle all candidate and client information with the highest level of professionalism and discretion. You can trust that your organization's reputation and confidential information are in safe hands with Flairdeck.
By working with Flairdeck, you gain access to a wide range of benefits that optimize your recruitment process, save resources, and help you find the best talent for your organization. Our extensive candidate network, expert screening and assessment, streamlined approach, industry insights, cost-effectiveness, and commitment to confidentiality make Flairdeck the partner of choice for employers in India. Partner with us and experience the difference of working with a trusted job consultancy firm.
Range of Services Top Job Consultancy offers in India
At Flairdeck, we understand that finding the right talent is crucial for the success of your business. As a reputable job consulting agency, we are dedicated to providing comprehensive services that cater to the specific needs of employers like you. Our team of experienced professionals is committed to assisting you in every step of the recruitment process, ensuring that you find the perfect candidates who possess the skills, expertise, and cultural fit required to excel within your organization.
Talent Acquisition and Sourcing:
Our expert recruiters employ a strategic approach to identify, attract, and engage with top-tier talent across various industries. We leverage our extensive network, cutting-edge sourcing techniques, and advanced technology to ensure a wide pool of qualified candidates for your consideration.
Job Description Development:
Crafting an accurate and compelling job description is crucial to attract the right candidates. Our team works closely with you to understand your requirements, culture, and goals, enabling us to create detailed and enticing job descriptions that effectively communicate the position's responsibilities and requirements.
Candidate Screening and Evaluation:
We understand the importance of screening and evaluating candidates thoroughly. Our recruiters utilize a combination of comprehensive interviews, skills assessments, and reference checks to evaluate candidates' qualifications, experience, and cultural fit. This ensures that only the most suitable candidates are presented to you for further consideration.
Candidate Shortlisting and Presentation:
We streamline the recruitment process by presenting you with a shortlist of highly qualified candidates who meet your specific criteria. Our team carefully assesses each candidate's compatibility with your organization, ensuring that they align with your company's values, goals, and work culture.
Interview Coordination:
Flairdeck takes the hassle out of scheduling and coordinating interviews. We handle all logistics, including candidate availability, interview panel coordination, and providing timely updates to ensure a smooth and efficient interview process.
Salary Negotiation and Offer Management:
Our team has extensive experience in salary benchmarking and negotiation. We assist in managing salary discussions, helping to strike the right balance between your budget and the candidate's expectations. We work closely with both parties to reach mutually beneficial agreements and facilitate seamless offer management.
Post-Placement Support:
Our commitment to your success extends beyond the hiring process. We provide post-placement support, ensuring a smooth transition for the new hire and your team. We maintain open lines of communication, addressing any concerns or issues that may arise and facilitating a successful onboarding experience.
Partner with Flairdeck and experience the benefits of a dedicated job consulting agency that understands your unique hiring needs. Our comprehensive range of services ensures that we are equipped to handle all aspects of the recruitment process, enabling you to focus on what you do best – driving your business forward.
Key Industries for Top Job Consultancy in India
At Flairdeck, we take pride in providing exceptional job consulting services that cater to a diverse range of industries. We understand that each industry has its unique demands and talent requirements. With our specialized expertise and tailored approach, we offer invaluable support to employers across various sectors, helping them navigate the complexities of talent acquisition and find the perfect fit for their organizations.
Information Technology (IT):
In the rapidly evolving IT industry, finding top-notch talent with the right technical skills and experience can be a significant challenge. Flairdeck specializes in sourcing and evaluating IT professionals, ranging from software developers and data analysts to cybersecurity experts and IT project managers. Our in-depth understanding of the IT landscape enables us to identify exceptional candidates who can drive innovation and propel your organization forward.
Healthcare and Life Sciences:
The healthcare and life sciences sectors require highly skilled professionals with specialized knowledge and a deep understanding of industry regulations. Flairdeck has extensive experience in recruiting for these critical areas, including physicians, nurses, pharmacists, medical researchers, and biotechnology experts. Our meticulous screening process ensures that we present you with qualified candidates who possess the expertise necessary to thrive in this demanding industry.
Finance and Banking:
The finance and banking industry demands professionals with strong analytical skills, financial acumen, and a deep understanding of market trends. Flairdeck excels in identifying top talent for finance and banking roles, including financial analysts, investment managers, risk and compliance professionals, and banking executives. We leverage our expertise to assess candidates' financial aptitude and align their skills with your organization's requirements.
Engineering and Manufacturing:
Engineering and manufacturing industries require highly skilled professionals who can drive product development, process improvement, and operational excellence. Flairdeck specializes in identifying talented engineers, project managers, quality control experts, and manufacturing professionals who possess the technical expertise and problem-solving abilities crucial for success in these industries. We source candidates with diverse engineering backgrounds, ensuring a comprehensive talent pool for your consideration.
Sales and Marketing:
Sales and marketing play a vital role in driving business growth and expanding market reach. Flairdeck understands the dynamic nature of the sales and marketing landscape and excels in identifying top sales representatives, marketing managers, digital marketing specialists, and brand strategists. We evaluate candidates based on their sales track record, marketing expertise, and ability to adapt to evolving consumer behaviors, enabling you to build a high-performing sales and marketing team.
Hospitality and Tourism:
The hospitality and tourism industry thrives on exceptional customer service and guest experiences. Flairdeck specializes in recruiting talented professionals for this sector, including hotel managers, event planners, chefs, travel consultants, and customer service representatives. We prioritize candidates with a passion for delivering exceptional service, ensuring that your organization can create unforgettable experiences for your guests.
Flairdeck's industry-focused approach, combined with our commitment to personalized service and rigorous candidate assessment, sets us apart as a leading job consulting agency. Our expertise in these key industries allows us to understand your unique talent requirements and deliver tailored solutions that drive your organization's success.
Partner with Flairdeck today and unlock the potential of your industry. Let us provide you with exceptional job consulting services that will connect you with talented professionals who will contribute to your organization's growth and excellence.
Contact us now to discuss your specific industry needs and experience the Flairdeck difference firsthand.