Welcome to Flairdeck: Your Premier Recruitment Agency in India
At Flairdeck, we understand that finding the right talent is the key to unlocking your organization's success. As a leading recruitment agency in India, we specialize in connecting top-notch professionals with exceptional companies, creating winning partnerships that drive growth and innovation.
Why Choose Flairdeck? Premier Recruitment Agency in India
Extensive Expertise: With years of experience in the industry, our seasoned team of recruiters possesses an in-depth understanding of the Indian job market across various sectors. We leverage our expertise to identify and attract the most qualified candidates who align perfectly with your organization's unique requirements.
Unmatched Network: Our extensive network of talented professionals spans across India, giving us access to a vast pool of candidates from diverse backgrounds. Whether you're seeking executives for leadership roles or specialized experts, our vast talent network allows us to find the right fit for your organization, ensuring long-term success.
Tailored Solutions: We believe in a personalized approach to recruitment. Our dedicated team takes the time to comprehend your organization's culture, values, and specific hiring needs. By understanding your unique requirements, we deliver customized recruitment solutions that align with your goals and result in remarkable talent acquisitions.
Streamlined Process: At Flairdeck, we have streamlined our recruitment process to save you time and effort. Our efficient methodologies, combined with advanced technology and tools, enable us to identify, assess, and select top-tier candidates swiftly and accurately. We make the hiring process seamless, allowing you to focus on what you do best: driving your business forward.
End-to-End Support: Our commitment to your success goes beyond merely finding the right talent. We provide comprehensive support throughout the recruitment journey, from initial candidate sourcing and screening to interviews, negotiations, and onboarding. We ensure a smooth transition for both the candidate and your organization, fostering long-term satisfaction and productivity.
Value Added Services | Premier Recruitment Agency in India
At Flairdeck, we believe in going above and beyond traditional recruitment services. In addition to our exceptional talent acquisition expertise, we provide a range of value-added services designed to further support your organization's success: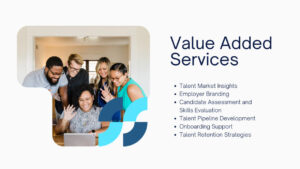 Talent Market Insights: Stay ahead of the competition with our deep industry knowledge and insights. We provide you with valuable information about talent trends, market dynamics, and emerging skill sets. This helps you make informed decisions regarding your recruitment strategies, ensuring you attract the right talent at the right time.
Employer Branding: Enhance your employer brand and attract top-tier candidates with our employer branding services. We work closely with you to develop and promote your organization's unique value proposition, highlighting your company culture, values, and career growth opportunities. By effectively showcasing your employer brand, we help you attract and retain exceptional talent.
Candidate Assessment and Skills Evaluation: We go beyond surface-level evaluations to ensure you hire candidates who possess the skills and competencies needed for success. Our comprehensive candidate assessment and skills evaluation processes include in-depth interviews, psychometric assessments, technical evaluations, and reference checks. This helps you make well-informed hiring decisions and minimize the risk of poor fit or underperformance.
Talent Pipeline Development: As part of our proactive approach, we build and maintain a robust talent pipeline to cater to your ongoing and future hiring needs. By continuously engaging with potential candidates, we create a pool of pre-screened, qualified professionals ready to be considered when positions become available. This saves you time and expedites the hiring process.
Onboarding Support: We understand that a successful onboarding process sets the stage for long-term employee satisfaction and productivity. That's why we offer onboarding support services to ensure a smooth transition for both the candidate and your organization. We provide guidance and resources to help integrate new hires seamlessly into your team, fostering their engagement and helping them hit the ground running.
Talent Retention Strategies: Retaining top talent is crucial for organizational success. Our team can assist you in developing effective talent retention strategies, including personalized career development plans, performance management frameworks, and employee engagement initiatives. By nurturing your talent, we help create a culture of growth and longevity within your organization.
At Flairdeck, our value-added services complement our recruitment expertise, providing you with comprehensive solutions to meet your talent acquisition and management needs. Partner with us and experience the added value we bring to every step of the recruitment journey.
Partner with Flairdeck | Premier Recruitment Agency in India
Flairdeck is more than just a recruitment agency; we are your trusted partner in talent acquisition. Our mission is to connect exceptional individuals with outstanding organizations, creating synergistic collaborations that fuel growth and success.
Contact us today to discuss your recruitment needs and experience the Flairdeck difference. Let us help you find the perfect candidates who will contribute to your organization's triumph in the dynamic Indian business landscape. Together, we'll take your company to new heights.